Private Half Day Volcanic Explorer Guided Walk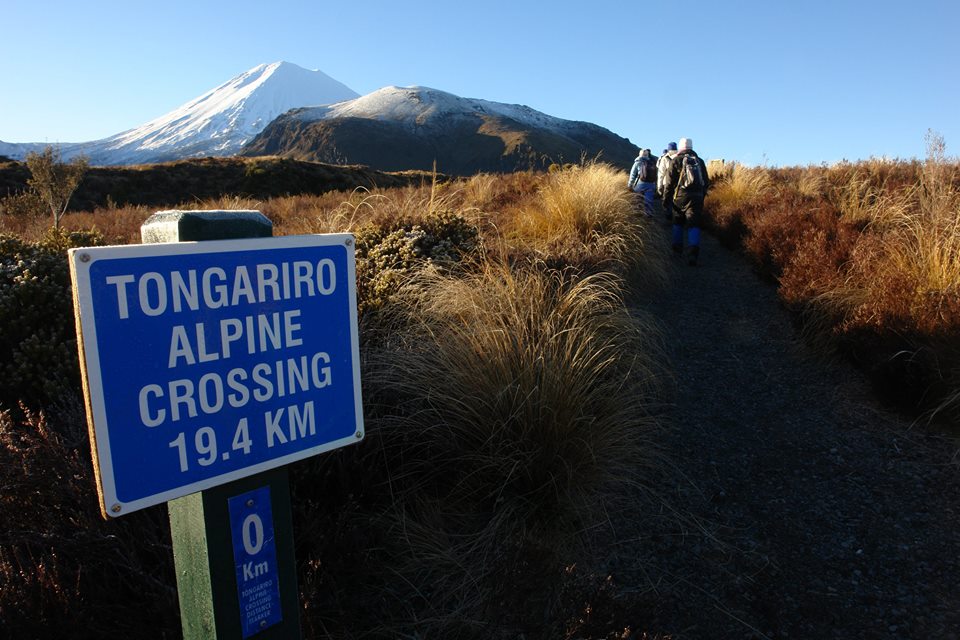 Duration: 4 Hours (approx.)
Location: National Park Village, NZ
Product code: GWEXVEHD
Our privately guided trips provide you with a really personal, informative and friendly experience you will never forget. The beautiful scenery does a lot of the work for us but we have tailored this trip so that your group is private to you, your guide is well informed and will keep you safe by constantly assessing the weather and track conditions, timing for your personalized transport pick-up, and other little details that will maximize your enjoyment.
Your private guide can also tailor the trip to accommodate different fitness levels and avoid weather-exposed sections or crowded areas. If time is limited and you are unable to spend the whole day walking the Tongariro Crossing, then the 4 hour Half Day Volcanic Explorer Guided Walk is perfect for you. Enjoy the beautiful landscape of the Tongariro National Park with this half day tour.

When possible, we will start on the Tongariro Alpine Crossing track and head up to Soda Springs before returning to the start. At Soda Springs we give you the option to upgrade to the full day walk at an additional cost. You will need your lunch and adequate water to request an upgrade.

If there is anyone in your group who is unable to walk for the 4 hours on the Tongariro Crossing Track then as a private tour, you can choose the option of driving to viewpoints which require less physicality. We have a menu of smaller walks we can enjoy ensuring you get to see and enjoy all you can in the 4 hours. We will talk and show you all things relevant to Tongariro and New Zealand including recent and past eruptions geology flora and fauna discovery and settlement of NZ myths and legends.

These are the most popular Tongariro sites we choose from and include in the 4 hours: Lake Rotopounamu, Taranaki Falls, Silica Rapids, Soda Springs, Pukeonake, Whakapapanui River, Tawhai falls, Meads Wall.

Please note: A minimum of two people are required to offer this private tour. Subsequent bookings over and above two people can book at the standard tour rate.

Included
Private guide/s, transport between the Adrift Tongariro base and the activity and all clothing and footwear hire.
Upgrades
Whilst on this tour and in reaching Soda Springs, you can decide to upgrade to a full day tour at an additional cost (difference between full day and half day tour cost). You must have lunch and adequate water to upgrade.

Timings
Tour starts and finishes at the Adrift Tongariro Base 53 Carroll St, National Park Village.
Summer (1 October - 30 April), Winter (1 May - 30 September)
Summer

Meet at the Adrift Tongariro Base: Pick up 10:00am
Return: 2.30pm
Winter

Meet at the Adrift Tongariro Base: Pick up 7:00am
Return: 12.00pm
We endeavor to remove the risk of clients not having adequate clothing and equipment for the conditions. To achieve this we request clients to meet at the Adrift Tongariro base to improve both safety and service as this is outfitted with all equipment and clothing needs for the conditions of the day.

Private Return Transfers
Return transfers are an additional service and cost over and above the tour booking to be added as an optional extra at booking. Please see optional extras for pricing. Return transfers require a minimum of 2 to operate. For full terms and conditions click here. Summer (1 October - 30 April), Winter (1 May - 30 September).
Whakapapa Village

Summer Pick up 9:30am / Return 2:30pm
Winter Pick up 7:00am / Return 12:00pm

Gear List
Summer
One and a half litres of water, outdoor walking shoes/boots with good grip, long walking pants, 2 x warm tops, raincoat with hood and a backpack.
Winter

One and a half litres of water, waterproof outdoor hiking boots with good grip, long warm walking pants, thermal leggings, 3 x warm thermal tops, hat, gloves, warm socks, waterproof raincoat with hood and a backpack large enough to hold water and crampons. Crampons and ice axes are included in the tour price.
Gear Hire
Adrift Tongariro has available for hire personal equipment, footwear and clothing to supplement that which you don't have and need including boots, socks, thermal longs, fleece longs, waterproof pants, thermal tops, fleece tops, waterproof jackets, warm gloves, warm hats, sun hats, sunglasses, backpacks, walking poles.
Re-confirmation
It is essential all clients phone the Adrift Tongariro base between 10:00am - 5:00pm the day prior to trip date to confirm tour departure time and discuss exact timings. +64 7892 2751.
Terms and conditions
For full terms and conditions click here.