3 Day Northern Circuit Guided Walk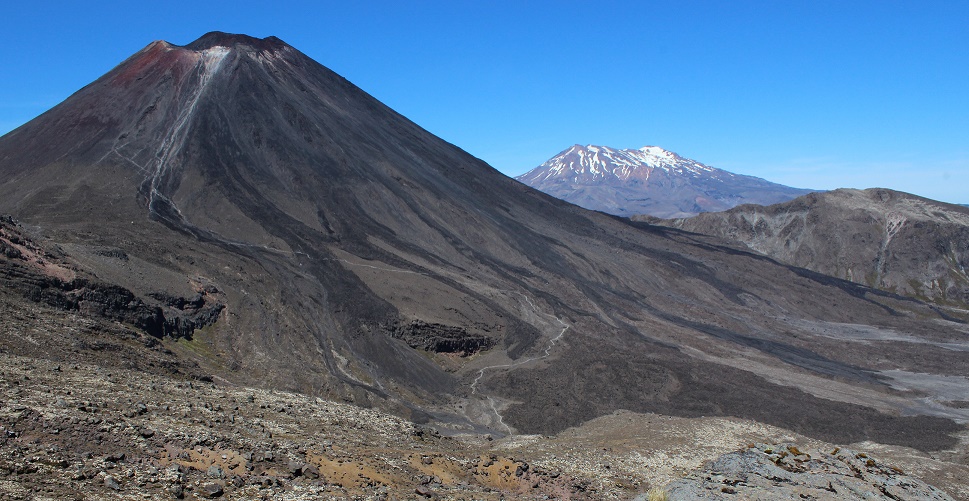 Duration: 72 Hours (approx.)
Location: National Park Village, NZ
Product code: GW3DNC
The Northern Circuit is a 3-day tramp/hike starting on Mt. Ruapehu and encircles Mt. Ngauruhoe. The circuit can be started from different points and walked in a clockwise or anti-clockwise direction. The Tongariro Alpine Crossing track will showcase explosion craters, lava flows, Tama Lakes, Taranaki Falls and the Rangipo and Otarere deserts are explored on this trek.

This trek is a good way to enjoy the Tongariro National Park at a less energetic pace, whilst avoiding the crowds of the Tongariro Alpine Crossing. Mt. Ngauruhoe had sporadic action during its last eruptions between 1973-1975. Since 1839, Ngauruhoe has erupted 61 times with breaks lasting no more than nine years (until 1975), and it is this regular activity that formed the perfect symmetry of its cone shape.

You will be required to carry minimal group equipment along with your own personal gear unless you request a porter (additional charge applies). Your backpack should not be carrying more than 10-12kg in weight.

Included
Guide/s, transport between the Adrift Tongariro base and the activity, Department of Conservation hut or camping passes, all meals (vegetarian available on request at time of booking), nourishments and basic needs whilst on tour. Adrift Tongariro also provide all cooking and camping equipment.
Timings
Tour starts and finishes at the Adrift Tongariro Base 53 Carroll St, National Park Village.
Trip departures available all year on application and confirmation. Summer (1 October - 30 April), Winter (1 May - 30 September). Northern Circuit return transfers work in conjunction with Tongariro Alpine Crossing return transfers which can affect return times.
Summer

Meet at the Adrift Tongariro Base: 8:00am
Return: 5:30pm
Winter

Meet at the Adrift Tongariro Base: 7:00am
Return: 5:30pm
We endeavor to remove the risk of clients not having adequate clothing and equipment for the conditions. To achieve this, we request clients to meet at the Adrift Tongariro base to improve both safety and service as this is outfitted with all equipment and clothing needs for the conditions of the day.

Return Transfers
Return transfers are an additional service and cost over and above the tour booking to be added as an optional extra at booking. Please see optional extras for pricing. Return transfers require a minimum of 2 to operate. For full terms and conditions click here. Summer (1 October - 30 April), Winter (1 May - 30 September).
Whakapapa Village

Summer Pick up 7:50am / Return 5:30pm Winter Pick up 6:50am / Return 5:30pm
Turangi

Summer Pick up 7:15am / Return 5:45pm Winter Pick up 6:15am / Return 5:45pm
Ohakune

Summer Pick up 7:30am / Return 6:00pm Winter N/A
Taupo CBD

Summer Pick up 6:20am / Return 6:30pm Winter Pick up 5:20am / Return 6:30pm
Gear List
Walking boots, socks (2 pairs), walking pants or shorts (not jeans), a waterproof rain jacket, 2-3 thermal or fleece tops, 50L backpack, 1.5L water container, walking poles (optional), sun hat, warm hat and gloves, sunglasses, suntan lotion, personal medical needs including blister tape and toiletries and personals for 3 days. For the hut at night: Sleeping bag, 1 set of spare pants, top and light footwear (crocs), head torch, a small book, cards or other if you want to relax at night.
Please be careful not to pack too much but please feel free to bring with you what you think you may need and we can scrutinise and advise that which we think is superfluous to requirements. This can then be stored securely at our base.

Gear Hire
Adrift Tongariro has available for hire personal equipment footwear and clothing to supplement that which you don't have and need including boots, socks, thermal longs, fleece longs, waterproof pants, thermal tops, fleece tops, waterproof tops, warm gloves, warm hats, sun hats, sunglasses, backpacks, walking poles and sleeping bags and liners.
Re-confirmation
It is essential all clients phone the Adrift Tongariro base between 10:00am - 5:00pm the day prior to trip date to confirm tour departure time and discuss exact timings. +64 7892 2751.

Terms and Conditions
For full terms and conditions click here.